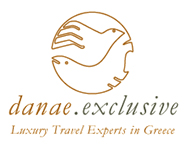 Facilitating the success of your next distinguished visit to Greece

Following the very successful launch of Danae.Travel as an online travel agency for incoming tourists to Greece, its new division, , sets new goals and looks into completely new directions. Through courteous, personal and professional services, Danae.Exclusive aims to put Greece in the map of luxury travel destinations as of 2009.

Tailor-made packages for individual travelers

If you are an individual traveler in need of assistance in designing a luxury holiday in Greece, we can make sure that your choices will fully satisfy your needs and aspirations while, in the course of your trip, ascertaining that any unforeseen problems will be efficiently dealt with and any last minute requests will be attended to with the highest possible service level.

Tailor-made packages for travel agents

If you need a complete solution, Danae.Exclusive can design and successfully execute complete personalized packages including reservations of transfers, accommodation and yachts. All reservations are done with proven suppliers whose products and services have been inspected and tested by our staff.

Professional Destination Management

If you are selling a package designed by your company that includes Greece as its destination, Danae.Exclusive can provide you and your client with destination management services ensuring that everything will go smoothly and all problems as well as last-minute wishes will be addressed and satisfied to the whole. Services can include meet&greet sessions, briefing material, escort and guide services, welcome gifts, 24hrs. emergency contact and more.

Why

Knowledge - Deep, unprecedented knowledge of every product & service sold. Exhaustive scrutiny of all suppliers and careful selection of the best Greece has to offer. Danae.Exclusive only operates for incoming travelers to Greece which is what we know best. We have been where your clients are going to be.
Service - Unsurpassed level of personal service throughout the course of the whole trip in cooperation with you. Our team will be there at every step of the way.
Detail - It is the details that make the difference. Everyone knows that this Athens hotel has five stars and good reviews. Very few know that room 608, on the 6th floor has the best view of the acropolis.

Let us care for your next luxury trip to Greece the way no one has cared before!